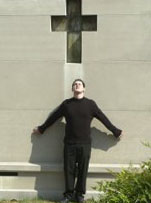 Read the Frquently Asked Questions

2000
David was asked to join Evanescence in 2000 as they began work on what would become Origin. With the band he was the keyboardist and performed background vocals on Origin, various demos, & Fallen; and performed with the band during their occasional live shows. During the same time in 2000, David created a solo album which he called Musical Demonstrations Pt.1. He also did work on a compilation album for The Summit Church which amongst others, included the track "Breathe" featuring Amy Lee from Evanescence.

2002
Evanescence spent several month in Los Angeles recording Fallen.
On December 19, David leaves Evanescence.

2003
In may of 2003 over dinner at ihop, Mark and David decided to start Trading Yesterday (which at the time meant buying a protools rig, getting an apartment together and beginning to record the music.
Three songs were recorded for The Summit Church's second compilation album called The Genesis Project. Around Christmas time he was in a Christmas program for The Summit Church, called "The Light". For the program there was a soundtrack created which featured several tracks by David including an updated version of "Lost In December".

2004
Ben & David worked together on a song for the CD "Passion of the Christ: Songs" soundtrack called "Only Human, Only God". WindUp's LostKey Records put out the CD in August 2004, but the song was not included so the song remains ellusive.
On February 8, 2004 along with Amy & Ben, David won 2 Grammy Awards and joined his former bandmates on stage to accept the "Best New Artist" award.
On May 15th Trading Yesterday had their CD release party for The Beauty & The Tragedy. The CD sold out a couple months later and will never be available again in that form.
Trading Yesterday signs with Epic Records and the band moves to LA to record the major label debut album.
David & Ben spent time with Kelly Clarkson writing songs ("Because Of You" & "Addicted") for her new album Breakaway.
At the end of November studio time for the new album was completed. String were recorded in December.

2005
Mixing for the new album was done in the first part of the year.
The Stealth soundtrack is released which includes the song "One Day".
He just finished producing the new CD for Charlie Hall. It will be in stores in January.
He also recently produced the new single by Anastacia on the her greatest hits album. It will be coming out November 7th. The song is called "Pieces Of A Dream", which is also the title of the album. Glen Ballard (Alanis, No Doubt, DMB) co-produced the track with David.
November 15, Trading Yesterday leaves Epic records.








All content © 2000-2010 David Hodges (forthefallen / 12:06 publishing) & Sleepwalker Records.
- Web Design: BlackVulture.com
- SITE CREDITS & THANKS
- Questions, comments, lemme know.